In observance of Dr. Martin Luther King Day our church offices will be closed and all on campus activities cancelled on Monday, January 17.
We meet on Thursday nights at 6:30pm in the Student Building. This is for new believers and those interested in knowing more about Jesus Christ and Biblical truths. Our new series begins January 20, but you may join us at any time during the 10-weeks.
BIBLICAL COUNSELING INTENSIVE COURSE
If you have a heart for helping others learn how to deal with life issues using the Bible and guided by the Holy Spirit, our Biblical Counseling Intensive Course may be for you. You'll learn how to help others deal with life's challenges that keep them from living vibrant, thriving lives in Christ--to the glory of God! This course if FREE and meets on Mondays from 6-9pm, starting January 24. For details call 719-632-3311.
Join us for our "Monthly Call to Prayer" gathering on Wednesday, January 26 from 6:30pm–8pm. We will be meeting in the Fellowship Hall!
MEN'S MINISTRY WEEKLY BIBLE STUDY
MEN'S MINISTRY WEEKLY BIBLE STUDY
Men, if you desire to go deeper into God's Word, fellowship with other men or learn more about becoming a disciple for Jesus, join us on Thursday's from 6:30pm – 8:30pm in the Fellowship Hall. For more information, stop by the Life Center or Men's booth in the foyer.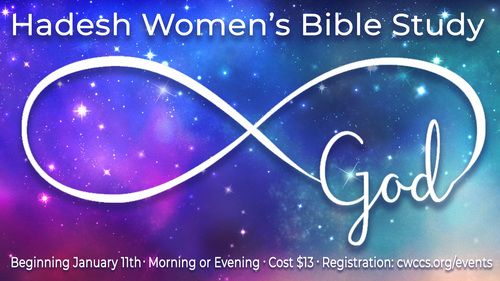 HADESH WOMEN'S BIBLE STUDY
Our Hadesh Women's Bible study is January 11 – March 1, 2022. The title of the study is Infinite God…a study of His character. Sign up for Tuesday morning 9:30am – 12pm or Tuesday evening 6:30pm – 8:30pm. Cost is $13. Childcare is provided.
SANCTITY OF HUMAN LIFE MONTH
In January we recognize Sanctity of Human Life, focusing on the God-given right to life. If you have a desire to minister to those who are struggling with this decision, we encourage you to contact Life Network to get involved. For details go to
elifenetwork.com
CWC MERCHANDISE STORE
Click here
to check out our CWC merchandise store at cwccs.org or stop by Pneuma Coffee House today! We have t-shirts, books, and music.

THINK ON THESE THINGS
As we approach this New Year, let us do so with full assurance of God's guidance. This "New Year" will be a venture in faith! Make plans, think outside of the box but also set your "expectation" (trust) in the Lord! Circumstances may alter our plans, but our "course" is irreversible! (Psalm 65:11) "You crown the year with Your goodness, And Your paths drip with abundance." (Psalm 25:12) "Who is the man that fears the Lord? Him shall He teach in the way He chooses." Christ will see you through in Twenty – Twenty-Two! A prosperous New Year to you all!
For His Glory!
- Pastor Al and Norma